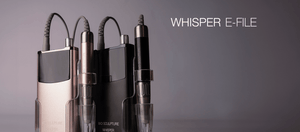 THE ULTIMATE TOOL FOR PRECISION AND EFFICIENCY
The Bio Sculpture Whisper E-File redefines the art of nail care. Equipped with whisper-quiet technology, exceptional battery life, and strong torque, this revolutionary portable tool is the ultimate choice for professionals seeking accurate and efficient filing.
30000 RPM
30,000 RPM with strong torque of 3.1NM for efficient and accurate filing
BATTERIES
Long-Lasting, 2000mah Lithium batteries
SOUND LEVEL
Whisper-quiet technology for a professional work environment
E-FILE SYSTEM
The BIO SCULPTURE Whisper E File (Electric File) is an electric powered rotary tool with multi functional purposes, designed to improve the quality of nail treatments in the salon. The E File can be used during multiple treatments, including BIOGEL & EVO overlays and extensions, manicures, and pedicures.
There are a variety of E-File bits available to use depending on the intended purpose, from preparation for product removal, dry gel shaping, fills, and detailed cuticle work. These bits are available in different grits, materials, shapes, and sizes depending on the required use. Using an E-File during your treatment will leave you wondering how you managed without one.
4. DUST COLLECTOR
The BIO SCULPTURE Dust Collector is an electric powered system designed to collect and capture dust from the air in the salon during specific treatment, allowing easy disposal and protecting the nail technician and client from breathing in dust, which can affect respiratory health. It can be used during BIOGEL or EVO removals, fills, and dry gel shaping. This is an absolute must-have when using an E-File in the salon.
*The Dust Collector creates a hygienic environment by removing dust from the air and capturing it for easy disposal.
*Lightweight, compact, and easy to operate.
* Replacement filters available.
Advantages
OF THE WHISPER E-FILE SYSTEM
*Whisper-quiet technology for a professional work environment
* Ergonomic design that fits comfortably in your hand for maximum control with low vibration from the coreless motor design.
*Long lasting battery life, 2000ma Lithium batteries allows for extended use without interruptions.
* 3000 rpm with a powerful torque of 3.1.NM
* A lightweight and portable device, perfect for professional use in salons and for mobile technicians.
* A variation of bits available for different purposes and for precise detailing while performing nail treatments.
*Quick and easy bit change with a secure locking chuck.
*Right and left-handed functionality.
All applications, but more specifically suited for soft gel applications
5-23 RPM, depending on the type and thickness of the application
BIO SCULPTURE Gel application in order to achieve good bonding. BIO SCULPTURE products respect and maintains a healthy natural nail. Our Diamond Flame Bit is used for cuticle preparation but if used correctly will cause no damage to the nail
Yes. Due to the E-File more effectively removing the layers of the application the gel removal process is somewhat quicker. A cuticle preparation is more effective, leaving a flawless and beautiful finish
No, not at all. If the technician has received professional training and uses the E-File correctly there should be no pain or discomfort
Avoid using the E-File while its plugged in and on charge. It takes around 2 hours to fully charge the battery, offering at least 10 hours of use once charged.
5-10 RPM, depending on the condition of the cuticle and skin.
Pay attention to the remaining battery level displayed on the top of the LCD screen. Once the battery reaches a lower level such as 20-30 percent it is advised to be charged. Avoid interrupting the charging of the E-File and if possible, allow the E-File fully charge to 100%
Yes, a one year warrantee is given from the date of purchase. This will be to cover functioning problems, and not damage such as dropping etc.
Yes, When your Whisper E-File is not working as it use to,
BIO SCULPTURE will give you the option to refurbish
your handpiece or you can replace it. When your Whisper
E-File handpiece is making noises, heating up, or
vibrating, stop using your drill to avoid any further
damage. We will collect your handpiece and replace
it with a refurbished handpiece. Your old handpiece
will be refurbished and will go to the next client.
Terms and Conditions apply