WELCOME TO BIO SCULPTURE USA
HEAD OFFICE & DISTRIBUTION CENTER FOR BIO SCULPTURE PRODUCTS IN THE UNITED STATES
Thank you for visiting our website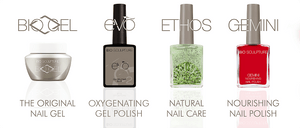 ABOUT BIO SCULPTURE USA
BIO SCULPTURE USA has been bringing these innovative, state-of-the-art nail systems to Americas' fingertips since 2000.
Still family-run to this day, Bio Sculpture USA has nurtured a strong culture of honesty, trust, respect, integrity, communication, accountability, and support.
Bio Sculpture USA prides itself in the high standard of education offered to licensed professionals across the United States. Our team of Educators are highly trained individuals that attend annual training seminars to be re-evaluated and trained on the latest products and application techniques.
Certification Training Classes are offered to licensed professionals across the United States. Bio Sculpture products are for both professional and personal use.
Bio Sculpture Treatment and Color Gels are exclusive and available to US state board licensed manicurists or cosmetologists ONLY.
The online BIO@HOME Retail Store is available to end-users looking for professional, salon-quality products to care for their nails at home. Bio Sculpture's ETHOS natural nail care products and the more than 200 GEMINI nail polishes, are favorites for homecare routines. These products, including the SPA line, offer unique gift opportunities for loved ones. Gift cards are available to purchase HERE. The "FOR PROS ONLY" section offers US state board licensed manicurists access to a PRO SHOP, information on Certification and Education, as well as a list of resources needed for salon use.
MEET OUR TEAM
AND GET TO KNOW THE PEOPLE BEHIND YOUR FAVORITE BRAND
OUR STORY
Before becoming President/CEO of Bio Sculpture USA, Elsie Visser had flaky, soft natural nails that often resulted in bleeding and sensitive fingertips. In 1989, while still living in South Africa, a friend of hers introduced her to the then 'New' nail care system called Bio Sculpture Gel, which she offered in her salon. After years of suffering from weak and damaged nails, she was amazed to see the transformation that Bio Sculpture Gel had done to her nails. Her once sensitive and damaged nails had become healthy and stronger than ever! She went on a quest to find out more about this remarkable product by attending the Bio Sculpture Brand Certification, where she learned about all of the health advantages of Bio Sculpture while becoming trained and certified on how to apply the products. She initially only wanted to take care of her own nails, but soon friends (and their friends) were lining up to have their nails done by her. With a business-orientated background as an integral part of her life since childhood, she decided to open up her own Bio Sculpture salon and later combined that with being and educator/area manager for Bio Sculpture in South Africa. This is where she fell in love with doing nails, as well as the beauty industry itself.
After running a very successful salon and area as manager for many years, the opportunity arose in 2000 for her and her husband, Henning, to bring and introduce this unique and healthy nail system to the USA. They did not hesitate. After moving to the United States, Elsie and Bio Sculpture USA have been helping Americans get healthier nails, one client at a time!
-----------------------------------------------------------------------------------
Henning & Elsie Visser (pictured above) immigrated to the US in 2000 with their son Henning III and daughter Melanie (now Coppolella), who since became an integral part of the business and now acts as Managing Director and Head of Education.
MELANIE COPPOLELLA
Managing Director | Head of Education
"My experience as a Master Bio Sculpture Manicurist enables me to cultivate and train an exceptional education team that differentiates us from our competitors. I would like to encourage all USA licensed manicurist and cosmetologist to experience how we can help you succeed in your salon, whether you are new to gel applications or a seasoned professional."

ESMARI FERREIRA
Social Media Co-ordinator | Educator

Esmari's Bio journey started in 2000! She received her initial Certification in South Africa. Esmari says, "I loved doing nails at a Spa in Cape Town using only BIOGEL". After moving to the USA in 2001, I had the privilege to meet Elsie in person and become an educator for the NY area. It was an Honor to later be Head of Education for 8 years and work
closely with the amazing team of educators. I am now working as the company's Social Media coordinator and love seeing the fantastic creations of all the Bio nail techs.
When I am not busy with Bio Sculpture, I enjoy fitness and time with my husband and two kids." 
KOZUE FUKANO
Educator | NV
Kozue has been doing nails over 10 years in Tokyo, Japan and 15 years in US. Kozue has been an educator of Bio Sculpture Gel for 10 years. I started using Bio Sculpture Gel in Japan. The nail system that Bio Sculpture Gel offers opened my career big! I can customize the nail system not only for the clients but also I can be creative for myself. Durable, healthier, and colorful Bio Sculpture made me a great artist.
My passion is to encourage all the nail technicians to use an amazing nail system and wow the clients!
KRISTIN KING
Educator | MI

Kristin, has been working with Bio Sculpture Gel for over 18 years and became a licensed educator in 2009. Kristin is not only a master pedicurist but has been a licensed esthetician in Michigan for over 28 years. With her wealth of knowledge, years of experience, breadth of contacts and love of her work, she is the 'go to' person for your Bio Sculpture Gel education!
RICKY COPPOLELLA
Accounts Serv. | Creative Designer
Ricky has been with Bio Sculpture USA since 2014. He speaks directly to the customers, and assists them with ordering, getting their accounts setup, and bringing Bio Sculpture into their salons. He enjoys talking to our customers, and helping them out with any issues they may have. He likes working for Bio Sculpture USA because it is a family run business, and he truly enjoys how the company is so focused on its customers. "Bio Sculpture has always been about customer service first and foremost" says Ricky.

MARILYN CASTORINA
Educator | CO
Marilyn has been working as a cosmetologist since 1993. "I always strive to provide my customers with the best products for their hair, skin, and nails. I chose Bio-Sculpture because it is the best because it's healthy for the client and the environment. I can proudly say that I have seen a dramatic
improvement in the condition of my client's nails."
Marilyn says "I am very happy to be an educator with Bio Sculpture so I can teach and share with new technicians the reason why they should ONLY be using Bio Sculpture."
NICOLETTE NEMDALI
Educator | NY
Nicolette Nemdali has been a licensed Nail tech for over 20 years. She is Outgoing and Extremely Artistic. She has been a Bio Sculpture Educator for over 11years. Nicolette is very dedicated to her work and family. "When i'm not working i enjoy cooking, gardening and attending my children's sports events. I believe in continued education on both a personal and professional level". 
PATRICIA MEDIAVILLA
Warehouse Operator
Patricia has been working in the Bio Sculpture USA warehouse and shipping department since 2012. She is an integral part of the Bio Sculpture USA team. Her hard work, dedication, and commitment to the company are both inspiring and infectious. She truly does love her job and takes a lot of pride in the work that she does. One of the things she says she enjoys about her job the most is that she gets to "learn something new every single day" at work.
SHANNON REED
Educator | MD
I have been a licensed nail technician for 27 years I absolutely love what I do. I was introduced to Bio Sculpture in 2008 I fell in love with the product and so did my clients. I knew I wanted to become an educator for Bio Sculpture Gel I love the company and what they stand for!
In 2009 I became an educator I just love teaching this product, the education is one of the things that drew me to it.
I am blessed to be married to my husband of 26 years with two beautiful boys.
TERA SOMMER
Eductor | MI
Tera Sommer has been a professional manicurist / pedicurist for over 23 years, she has completely switched from using acrylics to Bio Sculpture exclusively since 2011.
Tera says " Even though I was a little nervous about changing my medium after 1 years, I was excited about the benefits of Bio Sculpture Gel! I has since done wonders for my client's nails! My business has never been better, and I have never had this kind of confidence in any product before. My only regret is that I didn't switch sooner! It is an amazing opportunity to be part of the Bio Sculpture team, and to be able to teach and enlighten other manicurists, seasoned or not, about such an amazing product!"
ALTHEA THOMPSON
Educator | BB
Ms. Althea Thompson has an impressive history of educational contributions to the beauty industry. She has been an Educator for 18 years and a salon owner for over 20 years. "I have used several brands over the years, but none compares to Bio Sculpture." She is the official Bio Sculpture Distributor and Educator in Barbados and is passionate about sharing the health benefits of the products with both nail technicians and = clients alike. Her expansive career includes being the Chief Judge for Beauty in the inaugural World Skills Competition in Barbados. She currently serves as a Standard Development Consultant & External Verifier with TVET Council Barbados. Her wish is for all beauty products to be as safe as Bio Sculpture, endorsing the highest standards and sustainability, so that nail technicians and clients can use them with confidence, knowing that their safety and health are not compromised.
THE STORY BEHIND BIO SCULPTURE
ONE SOUTH AFRICAN WOMAN'S DREAM CHANGED THE LIVES OF THOUSANDS WORLDWIDE!
In the small, idyllic, Eastern Free State town of Clocolan South Africa lay a success story second to none, from one little girl's fascination with beautiful nails ...
All Bio Sculpture products are still being manufactured in South Africa by Bio Sculpture International and gets distributed from there to exclusive distribution centers in countries worldwide.
OUR INSPIRATION
Customer needs are always our priority. We firmly believe that Bio Sculpture's success is directly related to continued research and development of the nail industry's consumer needs. We don't look at what our competitors do - we find out what the "everyday woman" wants. There is an open channel from the end-user, via the technician and distributor, to Bio Sculpture International in South Africa, and ultimately to the Bio Sculpture manufacturing laboratory. Success will be inevitable if the lab can produce what the client wants.

Bio Sculpture is different from its competitors because we have never tried to compete. We want what is best for our clients. We listen to what they ask for, and try to satisfy that need as best we can. That is what makes us different.
OUR GUIDING STATEMENTS
VISION STATEMENT: Our Vision is to be the LEADING and preferred GLOBAL provider of nail care systems.
MISSION STATEMENT: Our Mission is to provide safe, cost-effective nail care systems and services that exceed required world-class standards.