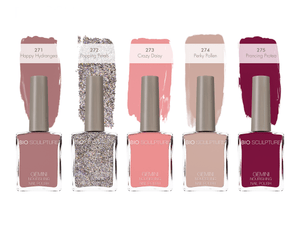 GEMINI NOURISHING NAIL POLISH
GEMINI Nourishing Nail Polish - representing "twins"- is Bio Sculpture's Nourishing, vitamin infused regular Nail Polish. Gemini Nail Polishes match BIOGEL colors and are perfect for your pedicure. Available in a 14ml size, GEMINI color is brilliantly displayed in the recognizable square bottle.
GEMINI contains hardening plant extract agents derived from Aloe Vera, Lemon, and Ginseng. This fast-drying, longer lasting nail polish typically provides a wear time of three to seven days, but it may vary depending on the individual's nail type. Factors like nail health, exposure to water or chemicals, and daily activities
can impact the longevity.
Gemini has a UV filter and is Styrene Free. GEMINI's brush promotes even application, consistent coverage, precise product control, and enhanced color perspective during application.
* Please note: Gemini is an air-drying nail polish and not a gel polish that requires a LED or UV curing lamp.
GEMINI is10-FREE, contains no organic solvents, dehydrating primers, or binders. GEMINI Nourishing Nail Polish is free of any harmful chemicals such as Formaldehyde, Toluene, Dibutyl Phthalate (DBP), Formaldehyde Resin, Camphor, Ethyl Tosylamide, Xylene, Triphenol Phosphate, Sulfate or Sulphate, and Parabens.
NOURISHING NAIL POLISH
WHY GEMINI
• GEMINI has brilliant colors with high color intensity
• Fast drying
• Longer-lasting
• Vitamins and plant extracts that revitalize, nourish and brighten natural nails
• Acai Sterols that improve nail hydration
• Contains hardening extracts derived from, Ginseng, Aloe Vera and Lemon
• Styrene free with a UV filter
• High shine
• Permeable
• Each bottle contains 14ml GEMINI Polish, with high color intensity
• Consistent coverage gives an even application
• Matches most BIOGEL colors
SHOW US YOUR COLORFUL LIFESTYLE @ HOME
WE LOVE TO SEE HOW YOU WEAR IT!
Tag us @biosculptureusa #bio@home
GEMINI SEASONAL
COLOR COLLECTIONS
Explore BIO SCULPTURE'S Seasonal Color Collections that are created to coordinate with the latest eye-catching runway fashion trends!