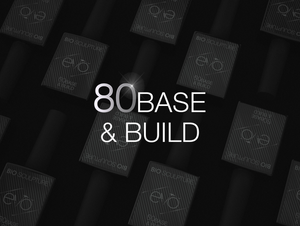 Our never-before-seen base gel technology is designed to mimic the keratin structure in one's nails, providing the ultimate adhesion. By using this unique formula, you'll experience a longer-lasting, more durable manicure than ever before.
Keratin Link
EVO 80Base & Build features a unique keratin-like formulation promoting linkage to the natural nail's keratin. This Keratin Link enables an exceptional bond and supportive structure and boasts quick, effortless soak-off release.
Effortless Soak-Off
The exceptional adhesion of 80Base is the result of the keratin-like molecular structure, and its effortless soak-off is made possible by the breaking of these links when introduced to BIO SCULPTURE Gel Remover. The easy release of the gel from the natural keratin, leaves undamaged healthy nails after removal.
80Base & Build
Nail Health
80Base also features two conditioners that protect and condition the natural nail throughout the entire duration of the overlay. The two conditioning ingredients, Polypropylene Glycol and an Organosilane help to condition the nail in two ways, by they creating a protective film over the nail plate and attracting water molecules to maintain moisture levels in the nail plate.
How does it work?
The Keratin like formulation of 80Base holds 3 key advantages to the professional nail technician, namely excellent adhesion, additional flexibility, effortless removal and healthy nails.
What's in the name?
The number '80' refers to the part in the formulation that gives 80Base & Build its unique Keratin-Link functionality.
Yes, the gel can be used as a Flat Base layer to most nail types
Applied as flat base layer, 80Base is cured in 30seconds. A good medium strength builder gel that needs a 60 second cure for upper arch or extension applications.
*Base layer for 4 and 5 layer overlays
*Base layer for sculptures
*Upper arch strengthening layer
*Upper arch layer for silk and form sculptures
*Saturation layer for silk sculptures
*Toe overlays
*Bonding layer for full cover tip application
*Fully compatible with BIOGEL and EVO systems
*Can be applied with or without SPS for good results
*Can be applied with or without a pre gel treatment (lavender base etc.).
Suitable for most nail types and provides strength to short, medium and long length nails.
Mercaptopropyltrimethoxysilane

 -an organosilane
Function: Nail Conditioning
Method: Aids in reducing nail flaking and brittleness by increasing the moisture content in the upper layers of the nail bed. In doing so, the nail gets an increased sheen giving an overall healthier look and feel to the nail.

Polypropylene Glycol
Function: Nail Conditioning
Method: Film forming in beauty products, producing a continuous film on nails (or skin and hair), improving the nails' aesthetic characteristics.
Potential concerns with HEMA were explored in an important study conducted by the European Commission on Consumer Safety (SCCS) in 2017 and 2018, which concluded that — when applied appropriately to the nail plate at concentrations of up to 35% — HEMA is not likely to pose a risk of sensitization, if use is restricted to the nail plate only. The concentration of HEMA in 80Base is approximately half of the recommended maximum and the cured product contains zero free-floating HEMA.

It is important to understand that HEMA only poses a risk when it is not properly polymerized during curing. When a formulation is not accurately engineered for precision monomer binding, the product can appear cured to the naked eye after curing, but there may still be free floating HEMA in the product. Similarly if all the raw materials are not of the highest quality, the curing process might not polymerize and bind up all the HEMA particles, thus leaving them active on the nail plate.  The precise formulation and medical grade ingredients of 80Base leave no harmful free-floating monomers after polymerization.

While other alternatives to HEMA could provide similar functionality, many of these are toxic or have not been fully tested.